Global Kidney Exchange Transplants
Global kidney exchange offers an opportunity to expand living donor kidney transplants internationally to patients with immunologic barriers. The concept has been proven to be successful in a limited number of transplants. Mike Rees, the Nobel Laureate Alvin Roth, and I suggest that a systematic application of this innovative tool would offer opportunities to treat thousands of patients worldwide who are presently denied a transplant and often even dialysis access.
I thought to post a few of our scientific manuscripts to share this important innovative procedure that will help thousands of patients suffering from end-stage kidney disease.
---
September 2020
Global kidney exchange should expand wisely
Alvin E. Roth, Ignazio R. Marino, Obi Ekwenna, Ty B. Dunn, Siegfredo R. Paloyo, Miguel Tan, Ricardo Correa-Rotter, Christian S. Kuhr, Christopher L. Marsh, Jorge Ortiz, Giuliano Testa, Puneet Sindhwani, Dorry L. Segev, Jeffrey Rogers, Jeffrey D. Punch, Rachel C. Forbes, Michael A. Zimmerman, Matthew J. Ellis, Aparna Rege, Laura Basagoitia, Kimberly D. Krawiec, Michael A. Rees
Introduction
We read with great interest and appreciation the careful consideration and analysis by Ambagtsheer et al. of the most critical ethical objections to Global Kidney Exchange (GKE). Ambagtsheer et al. conclude that implementation of GKE is a means to increase access to transplantation ethically and effectively. These conclusions by their European Society of Transplantation (ESOT) committee on Ethical, Legal, and Psychological Aspects of Transplantation (ELPAT) represent a step forward toward a greater understanding and an open, honest debate about GKE. Taken together with the strong endorsement of GKE by Minerva et al. in Lancet and the positive position statement of the American Society of Transplant Surgeons (ASTS), Ambagtsheer et al. successfully dispel previously raised doubts to which we have previously responded.
---
June 2022
Criminal, Legal, and Ethical Kidney Donation and Transplantation: A Conceptual Framework to Enable Innovation
Alvin E. Roth, Ignazio R. Marino, Kimberly D. Krawiec and Michael A. Rees
Criminal, legal, and ethical actions are three very different issues: this applies to all human activities, including living kidney donation and transplantation.
Criminal live donor kidney transplantation happens in countries with illegal black markets for organ transplantation. In these countries, surgeons perform the procedure outside regular medical centers, where donors and recipients receive poor surgical care and no postoperative care. Therefore, patients return to traditional medical institutions with no documentation and often with severe and life-threatening opportunistic infections. So far, longstanding efforts to eliminate these markets have failed, despite widespread repugnance to them, and the passage of laws criminalizing payments to donors.
Moeindarbari and Feizi discuss the kidney market in Mashad. In Iran, it is legal to pay kidney donors. Transplants and nephrectomies are conducted in well-qualified transplant centers, which are also responsible for postoperative care of donors and recipients. The vast majority of the world transplant community opposes payments to organ donors, whether legal or illegal. Iranians emphasize the difference between criminal and legal live donor kidney transplantation. Many members of the international transplant community have witnessed that the legal live donor kidney transplantation in Iran is conducted with the highest medical and surgical standards.
We strongly believe that international efforts should concentrate on increasing the availability of ethical high-quality live donor kidney transplantation options in all countries.
---
September 2022
The First 52 Global Kidney Exchange Transplants: Overcoming Multiple Barriers to Transplantation
Rees, Michael; Roth, Alvin E.; Marino, Ignazio; Krawiak, Kimberly; Rees, Susan; Sweeeney, Krista; Dunn, Ty; Punch, Jeff; Zimmerman, Michael; Aziz, Feroz; Al Obaidli, Ali Abdul Kareem; Ashlagi, Itai; Whittaker, Vaughn; Rege, Aparna; Forbes, Rachel; Kuhr, Christian; Correa-Rotter, Ricardo; Franco, Citterio; Okwenna, Obi; Paloyo, Siegfredo; Sung, Randall; Leventhall, Joseph; Mor, Eytan; Rogers, Jeffery; Tan, Miguel; Basagoitia, Laura; Ellis, Matthew; Anwar, Siddiq; Romagnoli, Jacopo
Introduction: Many barriers currently stand in the way of achieving international kidney exchange including: financial, regulatory, logistical, cultural, immunological and legal barriers.
Methods: The Alliance for Paired Kidney Donation serves patients in 15 countries. Ten of these countries have participated in Global Kidney Exchange (GKE) transplants in which either living donors, their kidneys or recipients have traveled internationally to achieve successful living donor kidney transplantation (LDKT). In all cases, barriers were present that prevented LKDT in the donor or recipient country of origin.
Results: Between January of 2015 and February of 2022, GKE has produced 11 chains and 4 cycles that has provided LDKT for 17 international patients from 10 countries to be transplanted, as well as 35 LDKT for patients in the United States (US). GKE chains lengths have ranged from 1 to 11; cycles were length 2 or 3. Eight GKE transplants overcame immunologic barriers, 4 financial barriers, and 5 both immunologic and financial barriers. GKE has involved 19 US transplant centers across 18 states and 38% of recipients were minorities. For US recipients 11% had blood type (BT)-A, 57% BT-0, 17% BT-B, and 14% BT-AB; for international recipients 41% had BT-A, 53% BT-O and 6% BT-B. The PRA was 0-20% for 23 patients, 21-79% for 14 and > 80% for 15 (10 international). International pairs were funded by a combination of self-pay, insurance and philanthropy. Transplanting 35 US patients saved US healthcare payers $7-10M vs. dialysis. International recipients have 100% 3-year patient and graft survival and all international donors are alive and have normal creatinine and blood pressure.
Conclusion: GKE overcomes financial and immunological barriers to transplantation. Savings from avoided dialysis offers scalability. Our program ensures transparency of international pair selection, emphasis on donor safety, and assurance of longterm immunosuppression for recipients as prerequisites for sustainability.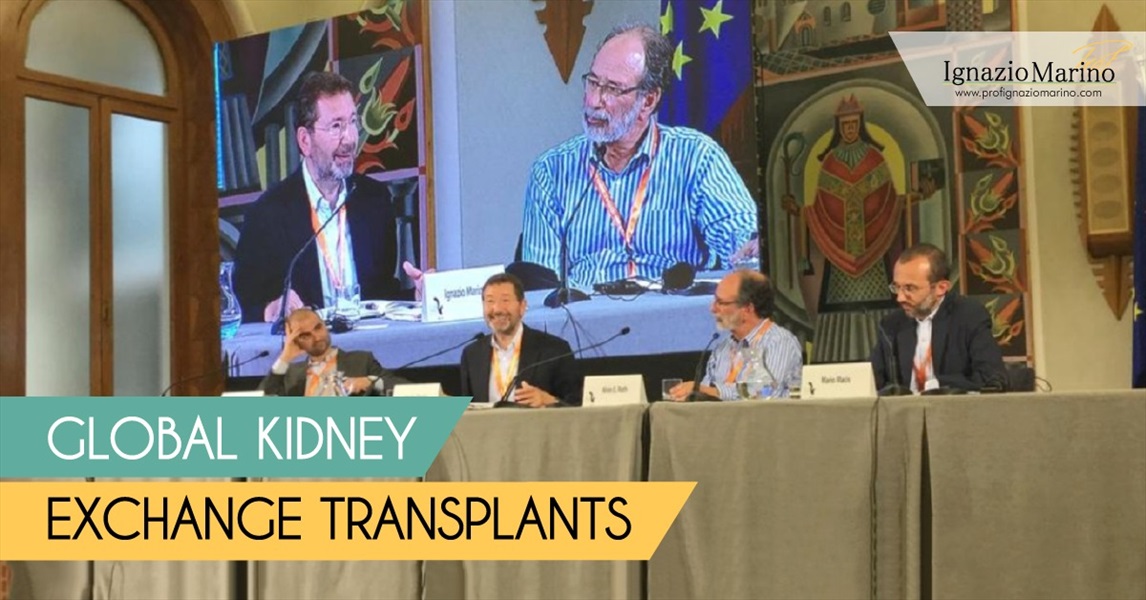 Prof. Ignazio Marino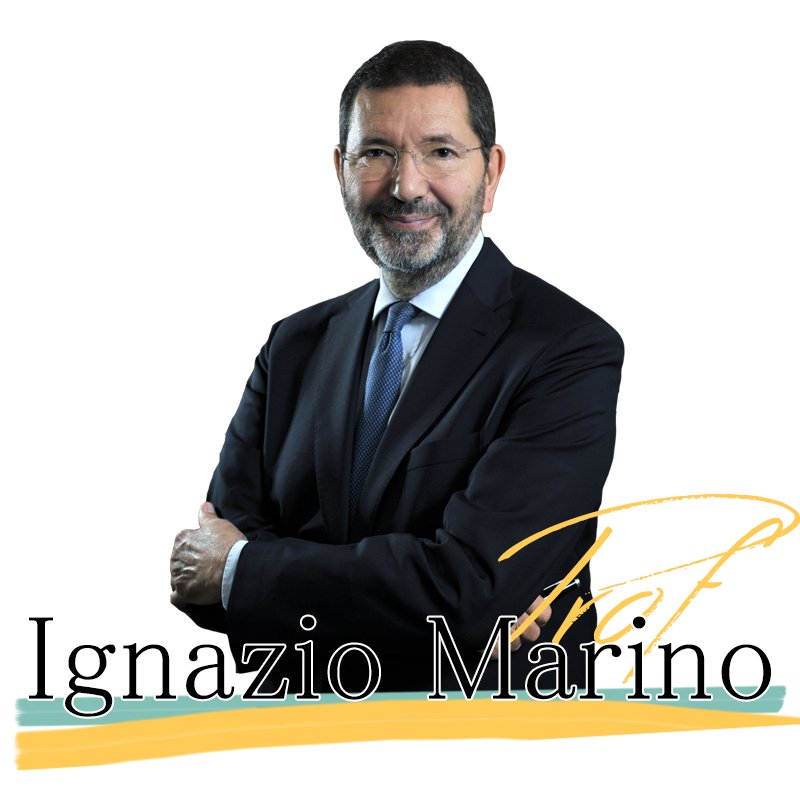 06.60301809
profmarinoignazio@gmail.com
Prof. Ignazio Marino Home page
:
profignaziomarino.com
Facebook Prof. Ignazio Marino
Twitter Prof. Ignazio Marino
LinkedIn Prof. Ignazio Marino
Youtube Prof. Ignazio Marino
Flickr Prof. Ignazio Marino
Tumblr Prof. Ignazio Marino
Blogger Prof. Ignazio Marino
Xing Prof. Ignazio Marino
Pinterest Prof. Ignazio Marino